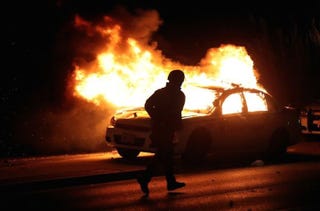 No part of this is meant to in any way defend or support the murder of police officers, or, for that matter, anyone else. It's awful that I even have to say that, but the timing is strange and I'm certain someone somewhere will accuse me of encouraging murder. Ah well. Murder is bad. No murder, you guys!
Okay, read on:
***
"The deed was done. The next day the world knew and the world sat in puzzled amazement. It was ever so and ever will be. When a prophet like John Brown appears, how must we of the world receive him? Must we follow out the drear, dread logic of surrounding facts, as did the South, even if they crucify a clean and pure soul, simply because consistent allegiance to our cherished, chosen ideal demands it? If we do, the shame will brand our latest history. Shall we hesitate and waver before his clear white logic, now helping, now fearing to help, now believing, now doubting? Yes, this we must do so long as the doubt and hesitation are genuine; but we must not lie. If we are human, we must thus hesitate until we know the right. How shall we know it? That is the Riddle of the Sphynx. We are but darkened groping souls, that know not light often because of its very blinding radiance. Only in time is truth revealed. Today at last we know; John Brown was right."
— W.E.B Du Bois, John Brown
On December 8th LeBron James, America's most prominent athlete, took the floor for pregame warmups wearing a black shirt with the words "I Can't Breathe" printed across the front, a meaningful act he later described as one undertaken in solidarity with the family of Eric Garner, a peaceful black man who was murdered by violent white police. He'd previously spoken up on social media: "As a society how do we do better and stop things like this happening time after time!! I'm so sorry to these families."
He went on: "Violence is not the answer people."
***
Through the first half of the 20th century Jim Crow laws were a means of strict and overt oppression, and their enforcement was carried out via a collaboration between police – then and now hubs of white supremacy – and the Ku Klux Klan. In Monroe, North Carolina, the local chapter of the NAACP was chased out of existence by these forces. Robert F. Williams, a former U.S. Marine and a civil rights activist, endeavored to rebuild it, and in 1946 he and Dr. Albert E. Perry began to organize and build momentum tackling local segregation. A series of meaningful movements – desegregating the local library, working to integrate local swimming pools – brought their chapter into the mid-1950s, and drew attention and escalating violence from Monroe's police and large and thriving Ku Klux Klan chapter.
In response to this violence, Williams applied to the National Rifle Association to establish a local rifle club, which he then named the Black Armed Guard. In October 1957, the Black Armed Guard held their turf and exchanged gunfire with night-riding Klansmen, driving them off into the darkness.
The very next day, in an emergency session, Monroe's city council passed an ordinance banning KKK motorcades. Not because of a decade of peaceful civil resistance. Not because black men and women had been lynched, abducted, shot at, and shot, merely for demanding what they've been owed for centuries. No. When men and women took up arms and held their turf by force, a structural practice of white supremacy was immediately toppled.
***
It suits white America to think of this current anti-brutality movement as misguided flailing by self-destructive denialists of an observably post-racial society, but, of course, this is unsupportable. To the extent that the American Civil Rights Movement was a conflict between justice and white supremacists, it has been a landslide victory for white supremacists.
Jim Crow laws were a legal expression of white supremacy, of course, but before violations of those laws were referred to the police for enforcement, the laws themselves were expressed as civil restrictions – Jim Crow said a black man couldn't share a drinking fountain with a white man, for example, and whites owned and operated all the drinking fountains. It was functionally up to civilian whites to give practical meaning to these restrictions, and the restrictions themselves reflected the will of civilian whites. It therefore fell to white America to deploy the state apparatus of supremacy as an active tool of oppression, and they did.
Gaze upon how little has changed: in 1986 Washington Post columnist Richard Cohen supported the prerogative of urban jewelry store owners to disallow black men – just black men – from entering their businesses. 27 years later, still writing for the same newspaper, Cohen described Trayvon Martin, murdered while unarmed by a psychotic racist vigilante, as "understandably suspected because he was black" in an article whose main thrust was to lay blame for "widespread fear" of black men at the feet of those same black men. What had Martin been doing to draw suspicion? Walking, while black, through a gated community, the gates of which were no doubt intended to keep people like him on the outside.
As Rich Benjamin wrote in the New York Times, "[g]ated communities churn a vicious cycle by attracting like-minded residents who seek shelter from outsiders and whose physical seclusion then worsens paranoid groupthink against outsiders." A University of South Florida study of gated communities in New Tampa, Florida, where Martin was murdered, found that gated communities tend to fall into one of two groups: "those developments that consist of primarily white, financially secure homeowners; and those communities which are made up of mostly minority renters with modest to low incomes." Trayvon Martin's crime, for which he was punished by death, was existing in the wrong one of the two. We can call it a crime because an American court decided his punishment was just.
White America has not observed the line tying together these various points in history: generations of slavery, legally enforced by armed overseers and militias; a system of legal restrictions on the rights of blacks, enforced by white police departments and the Ku Klux Klan; and economic and systemic oppression and institutionalized racism, enforced by brutal, militarized police and George Zimmerman. These forces are manifestly the same, in effect and intent, and they all express the same underlying tenet of white supremacy: that black people are only fit to be among us on our strict terms. As long as they stay in their part of town, accept what our society dolls out, are thankful, and, above all else, remain peaceful.
This generational struggle for justice has seen the fall of first slavery and then Jim Crow laws, and the doing was, to a large degree, triggered and sustained by violent conflict. Abolishing slavery required a war, and the abolishment of Jim Crow laws followed activists sacrificing their bodies and lives at the hands of bloodthirsty defenders of systemic oppression, and the righteous deployment of force, even violent aggression.
It's sometimes hard to not wish Trayvon Martin had been carrying a gun that night. He might have had a chance.
***
"Undeniably, the Negro had been an object of sympathy and wore the scars of deep grievances, but the nation had come to count on him as a creature who could quietly endure, silently suffer and patiently wait. He was well trained in service and, whatever the provocation, he neither pushed back nor spoke back.
Just as lightning makes no sound until it strikes, the Negro Revolution generated quietly. But when it struck, the revealing flash of its power and the impact of its sincerity and fervor displayed a force of frightening intensity. Three hundred years of humiliation, abuse and deprivation cannot be expected to find voice in a whisper. The storm clouds did not release a "gentle rain from heaven" but a whirlwind, which has not yet spent its force or attained its full momentum.
Because there is much more to come; because American society is bewildered by the spectacle of the Negro in revolt..."
— Martin Luther King Jr., Why We Can't Wait
Gun control is mostly a liberal concern, not far up the timeline in whatever direction from the notion that peace is both a means and an end. But peace, importantly, is not the opposite of hate, nor oppression, nor injustice. Peace is a cessation of violence, and history by way of the American Civil Rights Movement has taught us that cessation of violence makes for swell stories and broadly lovable heroes but is otherwise somewhat toothless as a means of social change. Peace is a worthy end, to be sure, but justice is the means, and justice is not always achieved peacefully. When we sing "give peace a chance" we're skipping an important step: the how. When we wring our hands and cluck our tongues at violent protests, we are denying history.
The gains won by the American Civil Rights Movement were not produced in some vacuum in which the Harlem Riots of 1943 didn't happen, when the shooting of an unarmed black man by a white police officer outraged a community already simmering with frustration over segregation. Nor one in which Martin Luther King Jr. didn't travel to Los Angeles in the aftermath of the Watts riots, precipitated by police brutality and in a climate poisoned by de facto segregation and the passing of Proposition 14, which upheld the right of property owners to deny housing based upon race. Nor, for that matter, were those gains won in an alternate reality in which white racist segregationists didn't violently riot at Ole Miss in response to the admission of one single black man to the university. Of course, we don't talk much about that last one.
And, of course, slavery was not abolished outside of a timeline of events that included Nat Turner's slave rebellion and John Brown's raid on Harper's Ferry. In our supposed post-racial modern peace-loving society, we maintain a wild and delusional reinterpretation of history, one in which these acts of violence, undertaken on direct behalf of slaves and against those holding the chains and whips, are deemed controversial at best, while the war that ultimately brought about slavery's downfall in America is granted some exalted form of unassailable purity. Not coincidentally, America celebrates heroes on both sides of that Civil War. High schools across America are named after Robert E. Lee, a white slave-owner who fought in defense of slavery. It goes without saying there are no American high schools named after either Nat Turner or John Brown, two men who took up direct action against slavery and died for the cause, and without whom there may never have been a Civil War.
Great teachers of non-violence suit a white- and victor-friendly retelling of history, but it was not Martin Luther King Jr.'s belief in non-violent protest that brought him into the Civil Rights Movement, it was his refusal to accept injustice. His prominence as a moral leader within that movement was built on courage, commitment, tactical and political brilliance, and a vital sense of the moment. His message of non-violence was, of course, crucial to his rise in general American culture – liberal white Americans love nothing so much as a movement that grants them entry. What's notable, though, about his message of love is that it did not offer apologies for the anger of black Americans, but rather amnesty for the sins of whites. In the name of Jesus he preached forgiveness, and forgiveness was offered in good faith by America's victims.
King's depiction of a realized America offered a vision of peace, but peace is only an incentive when it is being withheld, and much of the grip on that currency of change was asserted by activist leaders, like Malcolm X, who wanted no part of non-violence. As ever, the structures of white supremacy had to be dismantled by white Americans, and if the carrot was peace, the stick was resistance in all its forms, from civil disobedience to outright conflict.
But the brutal defense of supremacy does not differentiate between the violent and the non-violent – we killed Jesus, we killed Martin Luther King Jr., and in between we killed John Brown and Nat Turner. They were all of them right, but, notably, only two of them are called crazy.
***
Here is what we ask of our sainted non-violent leaders for induction into the soft-focus retelling of progress: that they be scrutinized, bullied, harassed, savaged, incarcerated, starved, degraded, and brutally oppressed, and that, before we kill them, they offer us absolution. They and their kind may be invited to our party under their best behavior and on terms dictated entirely by us and our whims, but in turn they must accept every debasement imaginable, and we will grant them prominence according to the eloquence of their forgiveness. Non-violence will not save them from us, it will merely grant them status in the teaching of future generations how to forgive our next round of punishment.
***
Some combination of violence and non-violence has taken us from there to here, but here is nowhere special, and non-violence has not been repaid in kind. Non-violence has been adopted and taught dogmatically as a virtue only of the oppressed, and isn't that something. Excoriating and condemning acts of violent protest with the same moral outrage with which we condemn their provocation places those two conflicting forces on an equal plane, obscuring the fact that the former acts as a persuasive punishment of the latter, and ignores the lesson of history – that some structures of white supremacy are only destroyed in a fire.
Change will be hard, the logistics will be tricky and uncomfortable. America rejects the notion of violent protest as some wet-eyed knee-jerk expression of common-sense, but the philosophical underpinnings of this common-sense are incoherent and unsupportable – nothing has been achieved solely through non-violence, to the extent that no large-scale non-violent protest has ever triumphed without an accompanying violent one. Martin Luther King Jr. accomplished important things, but there in the background was Robert F. Williams, manifesting legal protections out of thin air and a hail of gunfire. It is right, perhaps, that Martin Luther King Jr. has been made the totem of the fight for racial equality in American culture – his vision of a post-racial society is inspirational, and peace and love are ultimately worth tremendous sacrifice – but what was achieved in his lifetime was achieved via conflict, and that conflict took many forms, not all of them non-violent. And there is much still to be achieved, and many fronts upon which this conflict will be sorted out.
***
The fear, ultimately, is that violent protest undermines and ultimately destroys something important, but just what is that thing? Peace? We do not have peace to disturb. Prosperity? We do not have prosperity to interrupt. Justice? We do not have justice to defy. It's not America that has these things, but a portion of America, and at the literal expense of those who do not. My version of peace is defended by my army of oppressors, whose job it is to protect a border between my neighborhood and yours. America's moral stature? Please.
No, all that can be undermined – and this is what we are afraid of losing – is a way of life. But no one is entitled to a way of life that is inescapably the fruit of injustice. White Americans have developed a belief that freedom is a word that means the unimpeded right to keep whatever can be taken, and so we have been hoarding it all for ourselves for generations, using every leg up we've been given all the way back to slavery and giving none of it back. Laws have been enacted, sure, but laws only mean something when they're enforced – the rest of it comes down to practical realities, and anyway, the laws we enforce with any vigor are not the ones that ensure equality or provide access. The laws we enforce are the ones that quarantine blacks.
Concerns over the practicality of slavery reparations speak to this selfish crypto-racist defense of a centuries-old unearned way of life – we would have to liquidate the Federal Reserve. If liquidating the Federal Reserve is the price of justice, then justice demands we do just that. If we refuse to do it, we do not have justice, and so we cannot credibly claim that opposition to achieving said liquidation via violent overthrow is an expression of a just society. America is manifestly unjust. This is a thing to throw bricks about, if nothing else.
***
So, what. Finally, here we are: across America Americans don sloganed shirts and carry signs and stop traffic and die in. It makes for quite a spectacle. And threatened white Americans grumble and honk horns, some wave guns, and a bumbling and useless media struggles to find a safe way of saying nothing about it. The photos are compelling, for those of us on both sides who've taken spectator seats. Tomorrow, some number of pedestrians will stop along their route and take more photos of young people lying prone in odd places, or shouting at a fence around the White House, or gesturing angrily at terrifyingly armored police officers deployed to manage the route. Some number of these young people will be subjected to violence in one form or another – arrest, or pepper spray, or a baton, or tear gas – and it will all make for a great story. Municipalities will wait it out. This, after all, they can manage. Politicians will be happy to express solidarity with the goals of the protest, so long as those goals are nothing more profound than support for the named victims of brutality and oppression and their families. And the danger is that the whole thing might symbolize nothing so much as justice's impotence in conflict with white supremacy and a cherished way of life.
These demonstrations are not what white America is afraid of. What white America fears, and the reason our goons are decked out in bionic suits and deployed with sobering indiscretion, is police cars burning. Bricks being thrown. A conflagration over which America cannot drape the neutering and self-protecting banner of non-violence. An essential part of protests over the murdering with impunity of black people by white America is the part that punishes, that leaves part of this twisted way of life smoldering in ruin. This is what we saw in Ferguson, when a grand jury and a white prosecutor overtly and unabashedly thumbed their nose at the very notion of justice, and the town burned. America is called to action by these images. The very least that can be done is abandoning any insistence that the oppressed take the high road to nowhere. Structures of white privilege must be challenged and torn down from within, and that won't happen unless the penalty for inaction is sufficiently severe. This is a truth we should have learned by now.
LeBron's "I Can't Breathe" t-shirt tells a story, and an important one, of an America whose attention is called once again to systemic racism, alive and well and significantly unaltered from the forms it has taken over centuries of fitful soul-searching. Riots are perhaps an intervaled expression of the degree to which the harsh daily realities of this monster have degraded its victims, but if there's something particularly unfortunate about riots, it's the circumstances in which they are stirred, and the riots are what communicate the seriousness of these circumstances to a nation largely disinterested in moving in any meaningful way against institutionalized racism. The t-shirts – now found on athletes in multiple sports, on fans in the stands, and at movie premiers – put an important face on and provide political cover for activists and rebels pushing back by whatever means against a system of oppression. They point to a line of protesters arm-in-arm across an interstate highway and say "I'm with them." They redirect our attention from a basketball game to a burning police car and say "this is what happens." LeBron's t-shirt is a speech bubble over characters in action, a voice for the movement, but it is not the movement. The t-shirts are a useful non-violent symbolic act of solidarity, but they are also only t-shirts.